Drawing in Silver and Gold: Leonardo to Jasper Johns
British Museum, until 6 December 2015
'Head of the Virgin', Rogier Van der Weyden, Metalpoint on prepared paper, mid 15th century
This exhibition is the first to recount the technical and artistic development of metalpoint through work by renowned masters ranging from the Renaissance to the present day, including Rogier van der Weyden, Petrus Christus, Leonardo da Vinci, Raphael, Albrecht Durer, Rembrandt, William Holman Hunt and Jasper Johns.
Metalpoint is a challenging technique that uses metal stylus often made of silver, which traces the metal left and allows for exquisitely detailed drawings. The exhibition documents metalpoint's impressive variety as well as its revival during the 19th century when there was a renewed interested in the Renaissance.


Simon Schama's Face of Britain
National Portrait Gallery, until 4 January 2016
'Simon Weston', Nicky Philipps, Oil on Canvas, 2014

© National Portrait Gallery, London
'Winston Churchill'. Yousuf Karsh, 1941,

© Karsh/ Camera Press
'Nicky Philipps' portrait of the Falklands veteran Simon Weston...is that rare thing: a good contemporary portrait in oil.' - Bendor Grosvenor
In partnership with the BBC, historian Simon Schama's exhibition at the National Portrait Gallery brings together British art and history in order to explore the development, nature and significance of portraiture over the centuries. Working closely with curators, this exhibition gives us for the first time the opportunity to view the genre of portraiture through the themes of Power, Love, Fame, People and Self.
National Gallery, 7 October 2015 - 10 January 2016
'Self-portrait before an Easel', Francisco de Goya, Oil on Canvas, 1792-95 © Museo de la Real Academia de Bellas Artes de San Fernando, Madrid
This landmark exhibition showcases the development of Goya's skilfully arresting portraits from his first commission, aged 37, to paint the Spanish Prime Minister, Count Floridablanca to his later, more private works painted during the 1820's when he was in France during a 'self-imposed exile.'
During his extensive career, Goya secured commissions from across Spanish society, including the royal family, politicians, military figures and aristocrats. Following a bout of serious illness in his mid-40's, Goya became deaf. Nevertheless, his portraiture excelled and his ground-breaking abilities makes him one of Spain's most admired painters and highly respected by artists such as Delacroix, Degas and Picasso.
Bridget Riley, Learning from Seurat
Courtauld Gallery, until 17 January 2016
'Bridge at Courbevoie', Georges Seurat, 1886-87, The Samuel Courtauld Trust © The Courtauld Gallery, London
When Bridget Riley painted a copy of Seurat's Bridge at Courbevoie in 1959, it represented a momentous development in her artistic exploration and marked a new awareness of colour and perception. This intimate exhibition brings together Seurat's painting with a variety of Riley's early works and showcases how she became inspired to produce the abstract paintings characterised by repeated geometric patterns for which she is most well known today.
Jean - Etienne Liotard
Royal Academy, 24 October 2015 - 31 January 2016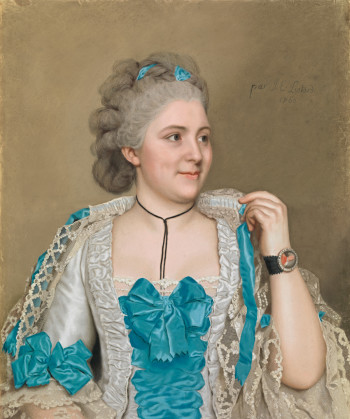 'Julie de Thellusson-Ployard', Jean-Etienne Liotard, Pastel on vellum, 1760, Museum Oskar Reinhart. Rodolphe Dunki, Geneva; acquired 1935 Photo SIK-ISEA. Photography; Philipp Hitz
Jean-Etienne Liotard was an outlandish and unique portraitist who vividly captured the splendour of the Enlightenment. Liotard was a master of self-promotion as well as an extensive traveller; known as 'the Turk' following a voyage to the Ottoman Empire during which he wore Oriental costume, he painted expatriates as well as what he saw around him. At the height of his power, Liotard painted members of the royal family from Britain, France and Austria and created alluring portraits in his trademark of pastels on parchment.
Frank Auerbach
Tate Britain, 9 October 2015 - 13 March 2016
'Head of J.Y.M II', Frank Auerbach, Oil on Canvas, 1984-85, Private Collection © Frank Auerbach
'This part of London is my world. I've been wandering around these streets for so long that i've become attached to them and as fond as people are to their pets.' - Auerbach
Auerbach has lived in Camden Town, London, for 50 years and it remains a focal point of his work. Painting daily, Auerbach abandons his work, scraping back to the canvas surface and starting again, repeatedly, until the painting comes together in a few hours. This show brings together paintings and drawings from the 1950s to the present day to emphasise the artist's acute perception of depth, texture and space and to highlight how his remarkable paintings can be viewed in isolation, documenting a process whereby the artist paints the same sitters or locations in a continual cycle.
Masters of the Everyday: Dutch Artists in the Age of Vermeer

The Queen's Gallery, 13 November 2015 - 14 February 2016
'A Lady at the Virginal with a Gentleman', 'The Music Lesson, ' Johannes Vermeer, Oil on Canvas, 1662-5, Royal Collection Trust/© Her Majesty Queen Elizabeth II 2015
Displaying 20 masterpieces from the Royal Collection by artists including Pieter de Hooch and Johannes Vermeer, the exhibition celebrates how Dutch artists painted everyday life - eating, drinking, domestic tasks, music recitals, family games - with extraordinary and meticulous skill, producing dazzling paintings that often insinuated a deeper meaning or contained moral messages recognised by the contemporary viewer.